Here's some pics of Jiggaman and Miss Mary at the Miami kickoff for their "Heart of the City" tour...the same tour I couldn't raise enough Poontang-Selling-On-Craigslist Ca$h to afford tickets to.
**tears while slicing wrist with a Veet razorless blade**





'Ye, Jeezy (Ayyyy!), and EFF AY BEE OH EL OH YOO ESS were also in the house. Peep Kanyeezy lookin' like Negroid Nutcracker.





Hova shared the shine with his loyal "apprentice," Memphis Bleek, giving him time to earn some extra blunt rolling papers cash perform some of his "hits."
Memph Bleek: Looking FINE as HAIL while selling exactly 17 CDs since 1999.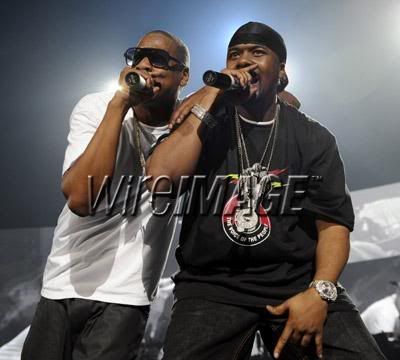 Here's my favorite photo of the bunch.
Since I won't be getting my good gushy gushy dough up no time soon so I can see the show live, I need one of you fortunate individuals who attend(ed) the concert to tell me what THIS was all about.
Judging from the look on Bush's face and knowing J-Hov the way I do, it would be appropo for him to have been spittin his verse from the remix to Juvenile's "Ha": You done got yaself into some deep shit...