**singin like Montel Jordan in the 90s**
This one's for the honeys...my FAT FAB HONEYS!
(Ok, I made up that last part, but you get my drift!)

Ladies, when it comes to fashion and outfit-making, I have a HUGE problem with wearing things literally. Cuz like that's sooooooo "mall." Like OhmyGAWD! FER SHER!
Like if you get a shirt and wear it with pants and shoes and and maybe some earrings and your everyday purse...ZZZZZZZZZ!!! BORING!!

I always have to add some pizzazz to my 'fits to give 'em a lil SavvyFatty swang to it. Cuz really, I HATE for someone to have on my EXACT same outfit. But that way if we do happen to get caught at a luau rockin the same damn Lane Bryant white and green floral print tunic AND capris (DAMMIT, man!), it won't have the same "feeeeellll" to it, ya dig? Cuz I will be rockin the bangin street fair-purchased palm frond paper mache earrings and a pair of camel colored pointy toe heels instead of your ghetto girl bamboo earrings (at least 2 pair!) and white sequined (**vomits**) FOAM flip flops...ya dig?!?!!!

Ok...so let's get back on trizzack.
Looky what I found at Torrid.com. It's a Yellow and White Tropical Print Cami. ON SALE! NOW! at http://Torrid.com!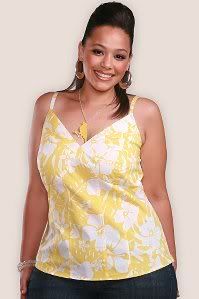 Ain't it kee-yute?!?!?!! Me likey cuz it's yellow, (one of my FAVE! colors!) fun, and flirty. But when I imagine it paired with a pair of jeans (probably capris) and white flip flops, somebody pull my weave up out my cereal bowl after I've fell asleep in it. SNOOZE CITY!!!!

So here's two looks I cooked up to jazz and spice this ish up a bit! Just call me "Fashion Zatarains" man!

Peep this Sassy Safari daytime look.
Imagine our lil yella cami under this safari-inspired shirt dress. ALL buttons unbuttoned, paired with several strands of pearls (FAUX of course! You know I'z a poor ninja!), a purple cuff bracelet along with a gold cuff (worn on the SAME arm, OF COURSE!), pale giraffe-print heels...OH THE HOTNESS! Shimmery gold rimmed eyes, pale pink lipstick. GIRL STOP!!!
Peep it!!




Now...when it's time to step out and getcha grown and sexxxy nighttime on...see how we can FAB the look up a bit.
I LOVE a bold color mixed with another pop of color and then tamed by neutrals. Peep the sheer BADASSNESS of mixing black, grey, blue, and yellow. YOWZA!
Imagine our lil yella cami under this grey capelet, over these grey-striped skinny pants, paired with a SMOKING HOT blue ankle bootie, fun goldtone accessories (the snake earrings are KILLIN' em softly!) and VAMPY makeup...JJJJJEEEEAAAAHHHH!!!!

**Sidenote: Now...If only we could fiiiiinnnd all this hot ish in our size! I've done the hard part by cultivating the look. Now it's your turn to do the legwork to get the items, ya dig?!?!?!!