Think a pencil skirt is JUST for 9 to 5 hustlin' when you're workin' workin' day and night?
WRONG!

Peep the versatility of this grey pinstriped Old Navy stunner (available NOW! for $16.99 in sizes 22-30!!!) with a widetabbed waist to hide that extra handful of Hershey's Miniatures you stole from Carol's candy dish.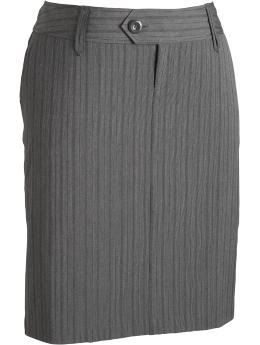 Effortlessly HIP
Your favorite hip hop DJ is spinnin' at the local car show and you need the perfect 'fit to be comfy and cool while catchin' the eye of all those car club cuties. Time to show them that their Dodge Magnums and Ford F-150s aren't the ONLY things that are candy-painted.


Stunt on 'em in a white baby tee accessorized with a fat, gold dookie rope worn under an animal print neckerchief with vinyl earrings, an arm full of rubber bracelets, a colorful leather bag and fiyah hot foldover leather ankle booties.
All this paired with your grey skirt...GUARANTEED to get their "engines" revvin'!



Velocity VIXEN!
Just as you're heading back to your ride while bobbing to the fading beat of the DJ, one of the guys from the Stuntin' 300 club hands you 2 VIP tickets to a party they're throwing in a hall close to downtown. Dre, the club's treasurer, tells you it's a "casual, but sexy event."
Casual, but sexy, ehh? "No problem!" you say as you immediately pair your red, jersey off the shoulder top with the skirt you're already rocking. Silver jewelry, a black and white patterned bag, and your plaid heels will help you get your par-tay on in the RIGHT lane.