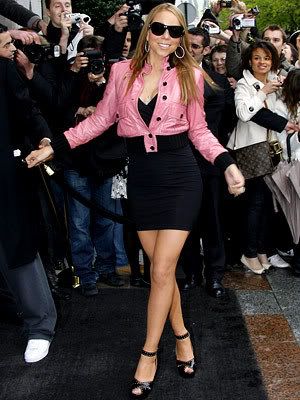 Mariah Carey was in France promoting her single "Touch My Body" and stainkin' up the place while looking like an extra from the movie Grease: Slicka Than Nu-Nile.

**screaming on Mariah's stylists**
E-NUFF AW'REDDY! The pee-po is tiiiii'ed with the constant tittay display and those pale glue sticks she calls legs. Would it HURT to put a bitch in a button up shirt and some highwaisted slacks for a muddasuckin' change??!?!?!!?!! Or has the world not seen enough of her mammal toe yet?
What's the word, Johannesburg?!!!!!