Peep the Preg Swagnicity of some of your fave Hollywood hotties.

Oh! And Lisa Marie Presley, too, showing that science is far more advanced than we know. Who'duh thunk a nonagenarian could successfully carry the fetus of Napoleon Dynamite and Jesse Camp's lovechild?
98 year old Lisa Marie Presley leaves West Hollywood's Madeo restaurant with her husband, Michael Lockwood, who looks like he's auditioning for the Y T revival of "Mr. Bojangles."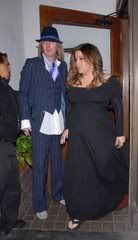 My girl Gwen Stefani lookin' oh so chic and cute with her medium-sized baby bump after leaving Saks in LA. She's reportedly due the first week of August. I hope she has her own lil' holla back girl since she already has a cutie patootie son, Kingston. Wonder what she'll name this one? **crossing fingers hoping the baby wasn't conceived in Middlefart, Denmark**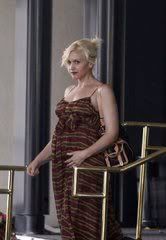 Jessica Alba is lookin' SWOLE after leaving her baby shower at Ever After Teahouse in Studio City. She better be quick to back down off the bon bons, pickles and ice cream...or she'll be in line with me spendin' Real Women Dollars at Lane Bryant's Semi-Annual Cacique sale.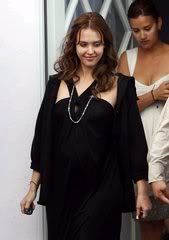 Peep her ninja lover, Cash Warren, carrying some ish out of the festivities.
**whispering** Hopefully he's taking that home to chop it up and put in a bowl with some Italian dressing for his babymama.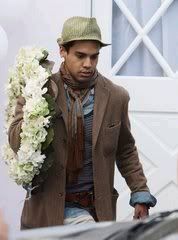 Maybe NOT Preg Swag
Kimora and Djimon were spotted shopping in West Hollywood and she didn't appear to be carrying a mini Midnight Mandingo. Peep the bare belly. You make the call...