Warm weather and a steady stream of sun-soaked days are almost upon us. (And if you're a Southern Californian like me...they NEVER left!) **looking at everybody else** Wudderyoo? JEALOUS?!
It's almost safe to tuck away the dark, dreary duds from your cold weather collection and exchange them for spring time brights and summery lights.

What's a better way to throw up your hands to declare, "IT'S SUMMERTIME, BIATCHES!" than with a pair of linen-blend trousers that can seamlessly take you from clock-punching to rum-punching?

LaneBryant.com has the perfect pair of light, white, versatile trousers for all your hot weather happenings.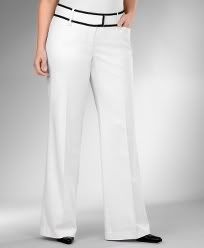 Saturday Sun-Day
What's better than waking up hangover-free! and to the sun smiling and shining through your window on a warm weekend morning?
Getting the chance to shop the uptown Farmer's Market!

The one you hardly get a chance to enjoy since you're forever nursing a headache or upset stomach from your Friday night festivities. You can already hear the strawberries, cherries, apricots and asparagus calling your name!
No time to fuss over an outfit. Just grab something quick as the market's only open for five hours...and you've already slept half of them away!






Throw on your "Lazy Days" pink plaid shirt over the tee you slept in and roll the sleeves up to your elbows since it looks hot out.
Slide into your white trousers, silver sandals, and a wrist full of stack bracelets. You can't forget those cute little plastic drop star earrings, the ones you scored for just $4! the last time you were sober enough to go to market.
Grab your sunglasses, reversible leather tote (for all those fab fresh finds!) and you're out the door. Hopefully looking cute enough to catch the eye of Adu, the African jeweler who for months now has been telling you how "eeg-squees-seet-lee bee-yoo-teef-oh" you'd look in a pair of his cowbone earrings. Today may be the day you score...not only flowers, produce, and the earrings (finally!)...but also his number. ;-)


Nautical By Nature
Your bestest guy friend invites you to a dinner party aboard his grandparents' yacht, Ebony Empress. You absolutely dread hanging with Avery's fam because of their unapologetic Black Elitist conservative views and the nonstop nagging about when you guys are going to "realize you're PERFECT for one another." But Avery is your bestie. So you can't leave him stranded with "those people" as he so affectionately calls them.
He tells you to dress up (to please the elders), but dress comfortably to please yourself. You have the perfect outfit in mind; one that will have precious Grandma Winifred questioning just how well you would fit into her bourgeois brood.



The clean lines of the white trousers paired with your nautically-themed schoolboy jacket over your hot pink Obama tee (YEAH!) will most definitely catch a few elephant-enamored eyes.
Carnation drop earrings, a silver envelope clutch and lime green heels set it all off. OH! DO NOT forget a pair of zebra-print flats just in case you ruffle too many right-wing feathers...and have to run for your left-wing life!


Weekday Wage-earning
You survived the night with the Harringtons and actually ended up enjoying yourself. After eating gourmet fried chicken and baked macaroni (WHAT?!!!)...and sipping 5 too many of Uncle Arland's addicting Peach Bellinis, you realize the Harringtons aren't that bad of a bunch. Yes, they are voting for McCain and "don't comprehend the allure of a simple Senator from the Midwest." But in the end...they are alright.
Since you slept through your alarm and only have mere minutes to get out the door, (Thank GOD for that before bed shower!) you throw your white trousers back on, (not before giving them a quick shake!), over a freshly dry-cleaned and pressed striped button-up, along with a white linen halter vest.




Silver teardrop hoops, a hot pink cameo, and an anchor necklace (keeping in the nautical theme!) accessorize your thrown together look. You simultaneously slide on your silver locket bracelet, grey stacked heels, and yellow ostrich purse just before grabbing your laptop and keys and flying towards your car, all the while thinking about Grandma Wini's smug promise to "groom you in the Harrington way in order for you to make Avery a fitting wife." HA! Is that right?!
If she could see you now!