Happy SHORTEST, MOST INSULTING MONTH TO CELEBRATE OUR RICH HISTORY! Month!
aka "Black History Month" for those of you who aren't as "militant" as your Fatty here! **weave glistenin' while pumpin' a Black fist** (<--Oh! The Irony!)

So, to celebrate I'm going to ATTEMPT (can't make promises. I BE'Z who I BE!) to post Black History Facts daily. And not OBVIOUS facts either. You won't see any Martin Luther King or P. Diddy facts here. Some you may already know about. Others you may be like, "WHAT?!?!? WOOORRRDDD?" Either way...read 'em...and SHARE! Each one teach one until we REEEAALLYYY reach 'em!

**whistlin 'Sweet Georgia Brown'**
1927 - The Harlem Globetrotters, considered by many the most popular basketball team in the world, is formed by Abe Saperstein. Originally called the 'Savoy Five' after their home court, the Savoy Ballroom, in Chicago, Illinois.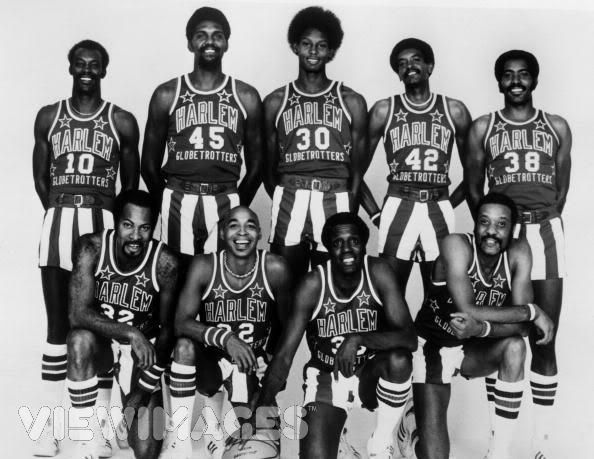 **whisperin** Them some big, tall, LANKAY summamabeeyatches!!! Bet those shorts are the SHORTEST they could POSSIBLY be. Bet there was aLOT of "man meat" under dem der' stripes!