Will Smith's primary late-night dookie pusher Jada Pinkett-Smith and K-Ci's old coke ho Mary J. Blige, along with Carol's Daughter founder, Lisa Price (<--my sister in bigness. Club Chub-make some noooiiiize!) held a special meet and greet with customers at the Westfield Fox Hills Mall in Culver City. **singin' and whisperin' before I get a drive-by shankin'** In the GHETTO!




photos: Kevin Kwan/nubuzzphoto.com



Damn! I wish I would have known!...and I had the day off...and gas prices weren't so ungodly...aaaand I had enough $$$ to actually make a poychuss...cuz I woulda been THERE!
I LUUUUUHHHVVVZZZZZ me some Murry J., even if she swagger-jacked this ol' gubmit employee by rockin' my current chunky bangs, wrap and big glasses ish. Dayum! Cain't a poor gubmit employee have ANYthang to herself? (The truth: Yes. Yes, I can. And it's called "Poverty." **tears**)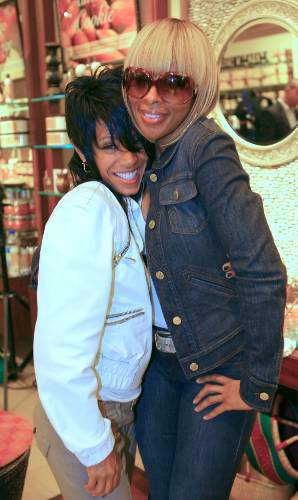 photos: Kevin Kwan/nubuzzphoto.com



I'm diggin' Jada's crop as well. It's refreshing to see her reppin' for her mulleted counterparts in a fab, fonky fashion. I can dig it! REP YO RAINBOW!
**lookin' around...then whisperin'** Before going home to 'Du, Mary better check her neck for hickies.


BIG UPS to successful, Black business WOMEN!!!