Now you know I celebrates individuality ANYway it comes. Remember: I beez the girl who will rock a leopard print jacket with a giraffe print bag and be like, "YUP! In my mismatch!"

However, I still look 28 (or younger, right? RIIIIGHT?!!?!!) with mines.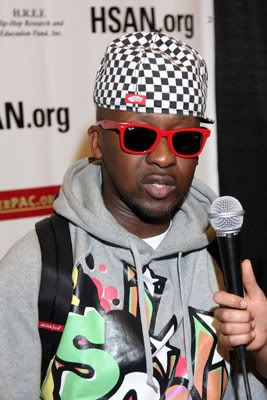 Too bad I can't say the same for OldO'Neal McKnight (of "Check Your Coat" fame) as he arrives at the 2008 National Hip-Hop Team Vote Launch held in Philly over the weekend.
Besides looking like Pennzoil sponsored his neck and Knudsen purchased adspace in the corners of his mouf, he looked mad inappropriate for such an important event. (Read more here)

Is there ANYthing Black folks will dress up for besides court?
**E-VEEL side-eyin' all y'all before you get a chance to bring up Remy Ma's trial treachery.**

**Sidenote: I was HARDPRESSED like a hooker's dress to find BIRTHDATE information on ya boy O here. So since I could NOT, I'll judge him by the rings around his neck...and just assume him and Moses shared tools in Woodshop.