Ok. So, Bernard Hopkins let the Brit get all up in his grits at Saturday's fight.


DAAAMMNN, homay! Against Calzaghe you wud'nt da man, homay! **wondering if Hop can smell what the glove was cookin'**

Ok. Enough of that since, thanks to Captain Morgan and 'nim, I didn't get to watch the fight anyway. Guess HBO thought they was too good to broadcast live from my toilet bowl.
HAYDUHZ!!! But that's neither here nor there.

Look who was in the house like Mighty Mouse! Front row centa' like, "Yeah! I'm DAT ninja!" (Yeah, I see Whitney, looking alive!!! I ain't EVEN gon' hate! All I'mma say is "YAY YOU!" and "GET DAT YOUNG COCK!")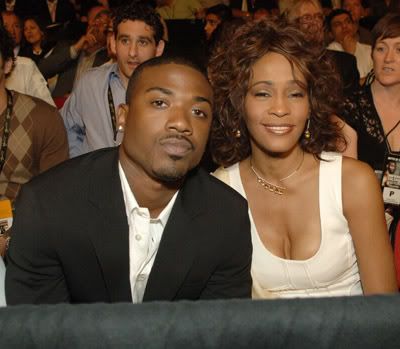 Wow!! What a difference a dick makes!
Before Ray dicked my babymama, Kim KardASShian, down (with a pants python that's MUCH too slim for myyyyy taste) nobody was checkin' for him. I GARE-RONE-TEE if this was just a couple of years back and he tried to sit FRONT ROW at a fight, the security guards would be like, "Wait a minute!" I bet Brandy wasn't even invited. Guess now since Ray's shinin' harder than his parents' daughter, she'll be labeled as "Ray J's sister"...or "Shawty Is a Killa!"