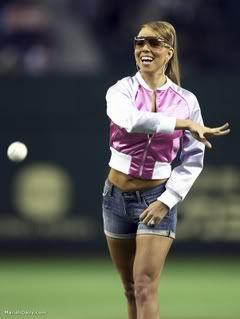 Photo Source
Well, wipe my ass with a
Jigglypuff
!
Ain't
Mimi-kins
just a cute, sweet bundle of
tacky cheesiness
ultra-fashionable "
youth
?" I
can't fucking stand
love
her retro coolness as she gets her
Jem & The Holograms
on at at the Tokyo Dome while on the Japanese leg of her
E=I Don't Hardly Care
promo tour.
Photo Source
Celebrity Advice for the Day:

Meemz, since it seems like your munk has a tapeworm that just can't be satiated, why not feed that savage beast AND save a BUNCH of Monistat money on wardrobe and stylists by having a fabric camel toe surgically attached to your peesh?