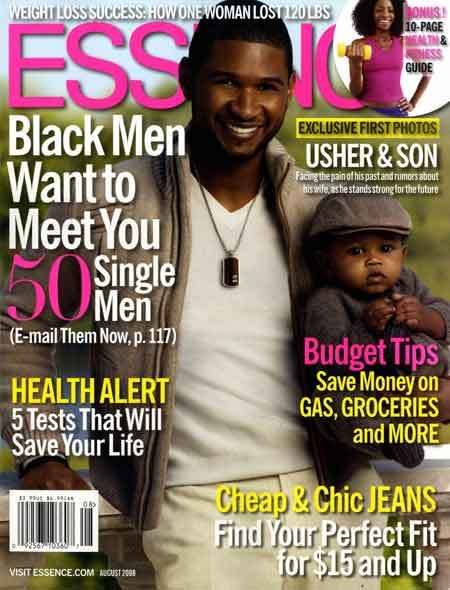 photo source
Is it just me and my fabits
(that's fat girl habits)
or
is looking at Usher's face causing you to fiend for a Saturday-morning-while-watching-Pee-Wee's-Playhouse bowl of
Cinnamon Toast Crunch
?

Somebody left this cover in the Photoshop Tanning Booth for 1,862 seconds too long. Even Lil Fif's
(cuz typing 'Usher Raymond V' was plain ol' NOT an option)
lips are steppin' to the black side.
What in the Djimon Honsou hail?!
Oh yeah, and if you ain't noticed, Ursh is giving the world a chance to peep the results of him and Tameka's science experiment for the August cover of Essence. Lil' Fif is a very cute little one; I won't front. Just hope they had him back on the set of Idlewild before Bryan Barber yelled, "ACKSHUN!" and the Costume Department noticed some shit missin'.
Oh! And I hope Ursh ain't make no munnay from these flicks being out for the public to see. Cuz iffin' I remember, he scoffed at the idea of using his child to make money. Guess since Here I Stand ain't movin' the units he's used to, minds change when ya dimes change, no?