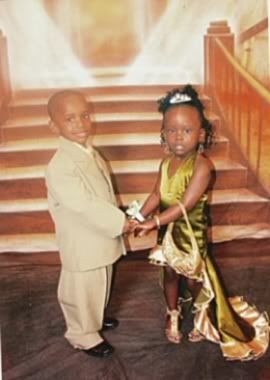 Fuck.
I'm up late nightin' it like I don't got public transpo to catch in less than 6 hours.
So, while over at
Fresh's speezy
, I came across some shit that got me CPS
AND
a ninja-with-a- black-light-dialin'.
SF'ers, I solicit you to assist in the lacing of my tennis on this one:
WHAT
the F U C K happened to kids being kids?
In the
Black Parents' Guide to Raising Respectable Children
,
(that I'm currently composing to thwart future cast members of Karma of Love,)
I cannot recall a chapter on how to properly construct a Garanimals Flamenco dress.
**smh and weeping**
If this kiddie prom night
(<--necessary for WHAT, again?!)
was
ANY
thing like mine,
that ain't no

milk

OR

vanilla pudding droplets

on them Disney Princesses sheets
there's cause for concern. I needz folks' parental cards revoked. Oh! And hand over them uteruses and vas deferens' too, playaz.
**does the 'Gimme' hand**