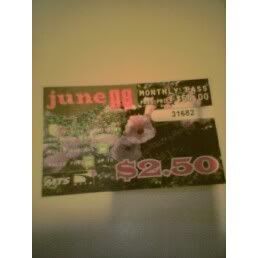 Guess it's finally come to this, SF'ers.

**head in hands, type-dejected**



For the first time since I was a gotdayumed teen
Got my ass on SD Trans' wit' a mug on mean
Had to park the Honda fast
'Tro prices whooped my ass

Got a 16 gallon tank that I couldn't satiate
So I pump my Airwalk sneaks
Not my anti-lock brakes
The Land of the Free?
Please! Gimme a break
Cuz my Nell Carter game
On its way to deflate
Cuz I gotta beat my feet
'Steada beatin' down the street
Less I give ExxonMo my arm, leg, and my teef

The Home of the Brave
Got us livin' like slaves
How I'm government-paid
Yet livin' like min' wage?
1-fifty in a month outta buy me some stunts
Or a hunk in some Dunks
'Least a couple dozen blunts

Try to set my soul at ease
But ain't no comfort in the trees
Cuz I steady day dream of
Days livin' fancy-free
But now I'm payin' like I weigh
Since Bush owed his homies a solid
So they emptyin' my wallet
Sendin' they kids off to college
While I'm 5 a.m. bus pimpin'
On my way to make a livin'
They sittin' back, straight chillin'
Talkin, "Man! We made a killin'!'"
Well, enjoy it while you can
Takin' my life away from me
Play the country like dummies
You isle hop and fuck honeys
But remember one thang
While ya days still sunny
High hog livin' NOW but:
God DON'T like ugly!